…Made of Steel, Heart of Gold…
At age 8 Barbara Hofmeister had to learn independence and personal development when she suddenly found herself alone in a small attic room in the middle of a big city in Western Germany after her family had escaped from former Communist Germany. At that time there were no mentors, no friends, no relatives, not even parents as they worked literally day and night to make back what they had left behind. It was tough for little Barbara who had no-one to turn to – except herself.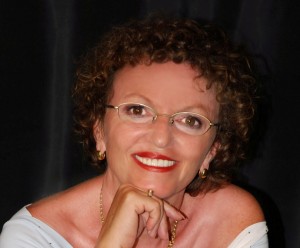 Barbara learned the hard way that freedom is not free, that you have to make some sacrifices if you really want to live your dreams. She learned that you have to make decisions and follow them through. She learned that not all "friends" are real friends and that some males think their physical superiority gives them permission to violate women…
Since 1994 Barbara teaches what she has learned from the University of Hard Knocks and her 33 years in the field of Personal Development. Her own life's experiences have created an understanding and connection with people rarely accessed by others. For her coaching it is not so much a business. It is her hearts desire to help people get out of a rut and into living the life they so much desire.
The documented experience of the thousands of people who have walked out of her events and mentoring programs having found exactly what they needed may be the reason you need to meet this very unique lady for yourself.
Testimonial by Nicky Pattinson, Business Consultant UK
……………made of steel, heart of gold……………
"Society is changing. Today there are more Singles than ever before in human history. Another phenomenon is that many people, especially women, in their 40th, 50th and even 60th are attempting to return to work or are changing careers. Many are being forced by circumstances to create a new life for themselves. My schedule is filled with people in this situation. Independence is the word of the day and with my 60 years life's experience plus 33 years of studying human potential I think am qualified and determined to help. Some think because I am German and I talk about determination that it is negative. However it is what got me through all the hardships and valleys of life and what will help you get through yours too."

Barbara Hofmeister is an internationally renowned speaker, author and expert on the topic of human growth. In the last 2 years alone she spoke to over 15.000 people helping them to get their dreams back and the courage to make them come true.
She became interested in her own personal growth in 1978 when a friend gave her the book "Your erroneous zones" by Dr. Wayne Dyer. Since then she has not stopped studying the topic until she felt she had to write down all her learnings and share them with the public.  Her book is called "To be or not to be – the choice is YOURS!" and uses a practical step by step approach to get you from where you are today to where you want to go in your life.
Barbara considers it her mission to help as many people as possible to rediscover their dreams and to gain the confidence and belief in themselves to actually make them come true.
Barbara is a passionate advocate of constant learning and reinventing oneself. No matter whether you are in one of her coaching groups or go to her workshops, you will always get drawn in by her never ending enthusiasm and passion for helping you succeed.