YOU ARE THE LUCKY READER!
As soon as you sign in underneath you will be given
a 
FREE preview

CHAPTER of my new TO BE book.
ONLY available during pre-launch!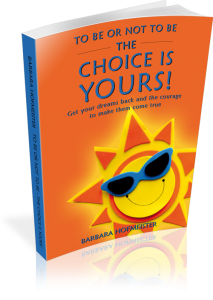 On top of that –

and this is BIG!!!

– you will get a FREE Assessment Session personally with me.
All you need to do is sign in and contact me. The details will be in your download email. 

TO BE OR NOT TO BE – THE CHOICE IS YOUR!
How to get your dreams back
and
the courage to make them come true
Do you still have dreams?
And do you want to make them come true? If you do,
start by writing your dreams down
– the clearer the better and please don't judge on the possibility or probability, just write whatever comes to your mind. Remember,
what the human mind can conceive it can achieve!
I've noticed that the majority of people still have some dream lurking in the background but most have given up on it. In many cases it has become so vage that it has totally faded in the background soon to be forgotten altogether. If you don't want that to happen to you I have an irresistable offer for you.
My book

"To be or not to be – the choice is YOURS!"

is being launched at the end of January 2010. But why wait, if you can get it today?
The TO BE book, as I call it, takes you by the hand and walks you through re-defining your purpose and living your own dream vision of life. Isn't that what we all want?
Well, I assure you, you can have it just like I have.

ONLY available during pre-launch!