365 Moments TO BE
Sometimes all it takes is a minute of inspiration to move us out of a rut and into the motivation we need to move towards the life we want. Especially in today's fast moving world we don't want to listen to hours of information but rather get what we need in a minute or two.
My "Moments To BE" are short inspirational messages and tips to live a happier, more fulfilled life.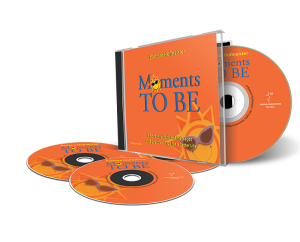 I will send you the first 19 Moments TO BE for FREE. All I ask is that you help me with the shipping and handling. I will pay for recording, design, and production out of my own pocket.
Here is what you will be getting:
Introduction to Moments TO BE
Three Secrets to Success
Know what you want
Answer life's TOP question
What is your legacy?
Be a good receiver
How to handle criticism
Tap yourself on the back
Know your qualities
Declare your strength
From idea to vision
Three step life process
Create your perfect day
Initiate your future
Beware of what you ask for
We have a choice!
Don't be a victim
How things get better
Law of Attraction
What is inspired action?
All of that for FREE, just help me with shipping charges of US$ 5,95
for your first set. That is all
Next month and every month thereafter I will send you 30 Moments TO BE so you have one message for every day of the month and eventually you will have a short inspirational message with lots of practical tips for every single day of the year. Even the busiest of people will find a minute or two to get themselves inspired and motivated.
To make it even easier for you, I will send you your daily Moment TO BE per email as an MP3 file so you have even more options where, when and how you want to listen to them. It can't get much easier than that.
So let's summon it up. You will get your FIRST lot of MOMENTS TO BE in a beautifully designed CD Set for FREE and only pay $ 5,95 to help with shipping & handling for your first 19 Moments TO BE plus an introduction and a summary.
From there on you will receive your Moments TO BE as a daily MP3 message in your Inbox. This way you can be sure to have something at hand to motivate and inspire you on every single day. Nothing like this has ever been done before and all that for only $47 per month. But for NOW, as an early bird subscriber, you get grandfathered in for only 27$ per month (after the first 21 days which are FREE – my gift to you). Don't lose this opportunity to have your personal daily motivator.
Moments TO BE
Daily short inspirational messages and practical tips for a better Life